Thursday, February 08, 2007
Crows or Wuya is a translated Chinese novel penned by the controversial writer from Beijing, Jiu Dang who depicted the life of Chinese women who flocked into Singapore with high hopes to get hitched by the Singaporean men. Singapore is viewed as the land of promise that symbolizes a hope out of poverty for these Chinese women. The Chinese women then had to be butterflies of the night to support themselves while, during the day, they went to English language schools to study.
The novel evoked controversial issues in both the mainland of China and Singapore as the public did not agree with the portrayal of Jiu Dan of Chinese women in Crows. That not all Chinese women resort to entertaining men at night just to lead a comfortable life in Singapore.

Rating: *** ( Very straight-forward and simple )
Posted at 07:21 am by carriekirana2
Permalink
Thursday, May 18, 2006
Princess in Pink - Meg Cabot
---
Princess Mia Thermopolis comes back in Princess in Pink, Book 5 of The Princess Diaries. I got hooked up with Mia in the first place because she is such a funny character, developing into a teenager with budding feelings towards the opposite species - which somehow reminds me of my own teenager days. Probably, even if we become adult with more responsibilities in hand, we still miss being teenagers ourselves especially when it comes to harboring secret feelings towards boys in the all-boy school next door; giggling away and talking excitedly about our Knights of Shining Armour. So, I figure, that's why , from time to time, I still enjoy reading teenage romance like the Princess Diaries!

In this novel, Mia has one agenda in mind. The Prom. She envisioned her going with Michael, dancing under the disco light but her biggest problem was , Michael was not the typical romantic type of guy.

Disaster striked when Mia's grandmother brought her beloved dog in a restaurant and got a busboy fired. The event triggered a chain reaction of events that had somehow dumped more headaches on Mia's head.

In the mean time, Mia was given a chance to move forward in her writing career when she was appointed as one of the feature writer for her school newspaper.

It is a lame story, so to speak. It is a light reading. But, I still enjoy it.

Rating: ***1/2 ( An OK read - Meg still maintains her funny writing style)
Posted at 07:55 am by carriekirana2
Permalink
Wednesday, May 17, 2006
The Da Vinci Code - Dan Brown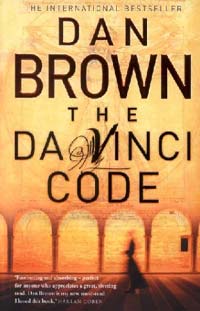 ---
In anticipation of a highly controversial upcoming movie The Da Vinci Code, I was compelled to read the novel I bought at a warehouse sale last year. I bought the novel out of intrigue on the big hype about the Da Vinci Code.
Put aside the controversial issue hovering on the new belief about Christianity which is based on the new testament, Dan Brown was at his best when he wrote the book. Strikingly rich with information on the paintings of Da Vinci, Priory of Scion, Opus Dei and the Holy Grail, I could see the tremendous effort he had put to come up with a tale within a span of 24 hours.
Da Vinci Code is indeed packed with nerve-racking events in which Richard Langdon, a Harvard symbologist, teamed up with Sophie Nevew, a French cryptologist to find the answer behind the hidden clues left behind by Jacques Saunière, a renowned curator at the famous Louvre museum in Paris who was murdered. Sauniere was trying to protect a secret that would shake the Vatican City's administration. Codes, clues and riddles were the main essence of this bestselling novel that would keep readers at the edge to find the alternate version of tales on the much sought after Holy Grail.
No doubt, it has become a best-seller.
Rating:****1/2( Definitely worth a reading and a keeper)
Posted at 09:19 am by carriekirana2
Permalink
Tuesday, May 16, 2006
---
Synopsis
Three women learn that the heart of their historic home holds a mystery of years gone by, as number-one bestselling author Nora Roberts brings her In the Garden trilogy to a captivating conclusion, following Blue Dahlia and Black Rose.
A Harper has always lived at Harper House, the centuries-old mansion just outside of Memphis. And for as long as anyone alive remembers, the ghostly Harper Bride has walked the halls, singing lullabies at night...
Hayley Phillips came to Memphis hoping for a new start, for herself and her unborn child. She wasn't looking for a handout from her distant cousin Roz, just a job at her thriving In the Garden nursery. What she found was a home surrounded by beauty and the best friends she's ever had-including Roz's son Harper. To Hayley's delight, her new daughter Lily has really taken to him. To Hayley's chagrin, she has begun to dream about Harper-as much more than a friend...
If Hayley gives in to her desire, she's afraid the foundation she's built with Harper will come tumbling down. Especially since she's begun to suspect that her feelings are no longer completely her own. Flashes of the past and erratic behavior make Hayley believe that the Harper Bride has found a way inside of her mind and body. It's time to put the Bride to rest once and for all, so Hayley can know her own heart again-and whether she's willing to risk it...
---
The final trilogy of the In Garden series, Red Lily summed up the story of a Harper's bride ghost who roamed the Harper House for centuries. Readers need to read the Blue Dahlia and Red Rose in sequence before attempt to read this as Red Lily is a continuation of the plot in the two earlier works of the In Garden series.
In Red Lily, Hayley, the young mother of baby Lily, set her eyes on Harper, Roz's eldest son when she came to Harper House a few months back. In this novel, the Harper bride "Amelia" came out the strongest as it continued to possess Hayley's body in order to send the message to her descendants of her tragic life when she became the mistress of Reginald Harper, Rosalind's Harper great-great grandfather.

Nora Roberts's writing style continued to shine in this novel as she developed compelling rich character of Hayley who has to take the ultimate risk to build a trust in her relationshio with Harper as well as fighting off the ghost who would shaken the budding trust and love in her current relationship.

Though the story was not as poignant as her other works, it is still a good read with a creative ending.

Rating:***1/2 ( OK)
Posted at 09:27 am by carriekirana2
Permalink
Friday, May 12, 2006
Undomestic Goddess -Sophie Kinsella
---
"Sometimes, you don't need a goal in life. You don't need to know the big picture. You just need to know what you're going to do next." - Samatha Sweething, a distinguished lawyer at Carter Sphinks, London.
---
I have come to love Sophie Kinsella's works eversince her best-selling Shopaholics series. Her writings never fail to catch me off guard with her creative plots and twists , though the stories are mainly about her female characters trying to become better person through their quirks and mistakes in life. No one is perfect and Sophie portrays her characters in just the right mould of today's reality.
Undomestic Goddess is a story about a woman who has to make a choidce between her uptight, challenging career as a corporate lawyer in London and a simple pristine life in the countryside. After a major disaster which threatened to wreck her lifelong career as a lawyer, Samantha walked out of the Carter Sphinks offices, dazed, took a train to a middle of nowhere and applied to became a hired housekeeper at a mansion owned by a weird couple.
She met Nathaniel, the gardener who tends to her employer's garden and along the way, feelings got into way.

Sophie still maintains her witty style in this latest novel and it just tugged my heart.

Rating: ****( A keeper )
Posted at 08:06 am by carriekirana2
Permalink
Thursday, April 27, 2006
Chill Factor -Sandra Brown
---
Sandra Brown did it again with her latest novel, Chill Factor. She has always been one of my favorite authors when it comes to suspense thriller with a romance twist. And, so far, her works never dissappoint me.
Lilly Martin went back to Cleary to close up the cabin she owned with her ex-husband, Dutch Burton. Though the marriage had ended, Dutch was hoping for a reconciliation but to no avail. Dutch left earlier, heading back to Cleary while Lilly stalled back to pick up some belongings. On the way down, Lilly nearly hit a man on foot in the middle of a heavy snow storm. They had no choice but to climb up to the cabin to take shelter and wait until the blizzard gone.
The story picked up when the man who got hit by Lilly was being pursued by police for suspected abduction and murder.
All in all, it was a satisfying read with a good plot twist. As I mentioned early, Sandra Brown has always had her own way to finish her story with a pop!
Rating:****(A Keeper)
Posted at 03:48 pm by carriekirana2
Permalink
Wednesday, April 12, 2006
Where Rainbows End - Cecilia Ahern
---
Rosie Dunne.....You deserve someone who loves you with every single beat of his heart, someone who thinks about you constantly, someone who spends every minute of every day just wondering what you're doing, where you are, who you're with and if you're OK.
You need someone who can help you reach your dreams and who can protect you from your fears.
You need someone who will treat you with respect, love every part of you, especially your flaws.
You should be with someone who can make you happy, really happy, dancing-on-the-air happy. Someone who would have taken the chance to be with you years ago instead of becoming scared and being too afraid to try...
---
My best friend recommended this novel by Cecilia Ahern. This is Ahern's second novel, after her debut bestseller, P.S. I Love You. I was actually taken back with the creativity of this new Chick Lit writer from Dublin, Ireland. The story moves through a series of letters, emails and Yahoo Messenger's texts with a very touching ending. A very different perspective looking into the phases of life of one Rosie Dunne who has spent the rest of her life, looking for rainbows to brighten her life. I find it an eye-opener to read a story just by looking at the collections of correspondences. It is such a sweet and heart-wrenching story.
Cecilia Ahern's laid-back writing style is just full of essence and, definitely, it got me thinking about life, love and fate. And, no doubt, it is also a keeper in my heart.
Rating: ****(Definitely a keeper - Very creative way to tell a simple "boy-meets-girl love story")
Posted at 03:17 pm by carriekirana2
Permalink
Friday, November 18, 2005
Jemima Jones - Jane Green
---
When I finished reading Jemima J, I know I have found another gem in the chick lit world - Jane Green. A hillariously funny read, Jemima J is all about body image that women nowadays are struggling to achieve amidst the world that does not do justice to women with sizes larger than size 12. I love Jemima J a lot for the witty language of Jane Green and the strong character of Jemima, the simple yet thoughtful plot on how Jemima Jones struggles to lose weight so that she could meet her dream guy whom she meets over the Net. The bottom line is, Jemima J discovers the meaning of true love and friendship in a down-to-earth language. Easy to understand yet bears a deep meaning about the world of love.
Rating; ****(A keeper!)
Posted at 10:51 am by carriekirana2
Permalink
Monday, November 14, 2005
Tuesdays With Morrie - Mitch Albom
---
Life is a series of pulls back and forth. You want to do one thing, but you are bound to do something else. You take certain things for granted, even when you know you should never take anything for granted. A tension of opposites, like a pull of rubber band. And, most of us live in the middle....Love wins...Love always wins.
Death ends a life not a relationship.
Learn how to die and you learn how to live.

---
This novel by Mitch Albom is superb. With his straight-forward style of writing, Mitch has carved the greatest anecdote on life with the help of his long-lost Professor, Prof. Morrie Schwartz. In the last days of his life, Morrie, a well-respected professor in sociology, had his Tuesday morning sessions with Mitch on the most important aspects in life. Mitch has written beautiful proses that , yes, striked a cord in me to value the little things in life that I take for granted.

Rating: ****( A Keeper)
Posted at 07:29 am by carriekirana2
Permalink
Tuesday, October 11, 2005
Black Rose - Nora Roberts
---
Yes, it is another novel by Nora Roberts. Black Rose is Book Two of the In Garden Trilogy. Check out Blue Dahlia, Book One of the In Garden Trilogy. Having read most of her books, I figure Nora Roberts is fond of mixing romance with a twist of paranormal. In Black Rose, the inhabitants of Harper House has to deal again with the Harper Bride ghost who still roams in the corridors of the mansion.
In Black Rose, Rose, has to search within herself to find the courage to love again . The hero is Dr. Mitchell Carnagie, a genealogist, who specializes in tracking down the family root and was hired by Roz to solve the mystery of Harper Bride.
Over the days Dr. Mitchell spent at the Harper House, love bloomed between him and Rose which triggered the Harper Bride to cause chaos at the Harper House. Nonetheless, Nora did it again in this novel though it was a big dragging at first.
Rating: ***1/2 (still a keeper)
Posted at 07:35 am by carriekirana2
Permalink
Carriekirana loves to read; anything from a mere autobiography to the bestseller book in the chart. She enjoys collecting quotes as well as ponders upon wise sayings of life. Bookrack is her attempt to keep tab of what she has been reading. Hopefully, it will also benefit those who visit as well.
---
ON HER BOOKRACK