Monday, October 10, 2005
The Calhouns : Catherine, Amanda and Lilah- Nora Roberts
---
I am in the midst of catching up with Nora Roberts's earlier novels these recent weeks. I have come to like the Calhoun women series for the vitality of the Calhoun's characters. I have learnt a lot from Catherine , the youngest of the Calhoun sisters in "Courting Catherine "- an introduction to the Calhoun's emerald legends and the Towers in which the Calhouns lives that carries its mysterious legendary history of the Calhoun's anchestor, Bianca Calhoun. Catherine, or C.C. , worked as a mechanic and unexpectedly, found her match in Trent St. James, a famous hotelier who set his eyes to purchase the Calhoun Towers and convert it into a resort.

I also come to love Amanda, in " A Man For Amanda", her practicality in live was thrown off-balance when she found out that she was falling in love with Sloan, an architect, a friend of Trent, who came to the Towers to help Trent remodeled the Towers to become a getaway vacation spot.

In "For The Love of Lilah", I am more intrigued to know more about Bianca and her legendary emeralds which attracted a large number of interested professional thieves. The uniqueness of this series is it was entertwined with excerpts of Bianca's journal, depicting her loveless marriage to Fergus Calhoun and her romance with a painter, Christian and, since day one, the Calhoun women were in a quest to find the missing jigsaw puzzles of the whole thing to find the emerald believed to be hidden in the Towers.

I love the Calhoun women!

Rating: ***1/2 ( A Keeper)
Posted at 09:04 am by carriekirana2
Permalink
Wednesday, July 20, 2005
One for My Baby - Tony Parsons
---
I was captivated by the excellent works done by Tony Parson in his earlier bestsellers, Man and Boy and Man and Wife and it sort of inspired me to buy One for My Baby. Again, Tony Parsons write about life from his other perspective. Somehow, after reading three novels, I noticed the same threads reappearing in sequences; white males who adore Asians, closely knitted families with only one child, happy families gone awry and character of men in search for happiness. Having read Man and Boy and Man and Wife, I found something amiss in One for My Baby. It did not touch me in the same way as MB and MW did.
One for My Baby hovers around Alfie who lost his wife in a tragic incident and his coping with life. His series of meaningless relationships put him in compromising situations and at the end of the day, he found it was hard to ignore his pulling attraction towards Jackie and her daughter, Pumpkin.
For the readers who love Tony Parson's way of writing and life in general, One for My Baby could be the best bet for the weekend read.
Rating: ***1/2 ( AN OK Read - Nothing unusual )
Posted at 09:26 am by carriekirana2
Permalink
Thursday, May 26, 2005
Man and Boy - Tony Parsons
Love is when you learn how to let go

---
An internationally acclaimed novel for a few years, Man and Boy somehow escaped my attention until recently. Strongly suggested by a close friend who has a strong liking for male authors, I decided to pick up Man and Wife first when it should have been Man and Boy. Nonetheless, Man and Boy captured my emotions as poignant as Man and Wife. It is a gem of its own. Man and Boy looks at life from Harry Silver's perspective about life. It is a simple story starting from the beauty of birth at the beginning of the story, the love captured and lost in relationship, marriage, parents, reality of death and rebirth. It is a story about all of us yet written a la Tony Parsons. It is a keeper.
Rating: ****1/2 ( A Keeper)
Posted at 03:06 pm by carriekirana2
Permalink
Tuesday, May 24, 2005
Can You Keep A Secret - Sophie Kinsella
---
Blame it on the work stress. But, at this point of time, I am not so into the heavy literature works acclaimed by the best publishers in the market. I stray away from the main stream and get myself entangled in another chick lit by Sophie Kinsella - Can You Keep A Secret ? I can't help but notice that the famous chick lit authors are indeed British. Still, I am just amazed by the fact that Sophie Kinsella never fails to amuse me with her fictional anecdotes of Emma Corrigan - an assistant marketing executive who spilled all her humiliating secrets to a stranger on a plane. Which eventually leads to another chain of events that changes her life in a monumental manner. It is a laughable book, a remedy when you are down, an escapism read amidst the mountain of books I need to keep up. Sophie Kinsella is still my number one favorite author when it comes to reading chick lit.

Rating: ****(Hillarious, witty and definitely a book keeper)
Posted at 09:03 am by carriekirana2
Permalink
Sunday, May 22, 2005
Princess in Waiting - Meg Cabot
---
Princess In Waiting is the fourth book in the best-selling series of Princess Diaries. Though it still maintains the wittiness of Meg Cabot's writing, I personally find this book lacks certain sparks in other Princess Diaries' books. Nevertheless, Princess in Waiting hovers over the predicament Mia faces between attending to the social obligations of becoming a princess and pursuing her first dream date with her childhood sweetheart, Michael. It is still a fun read, it still makes me smile . It is still my best medicine after a long day of hard work. It does not dampen my spirit to purchase Princess in Pink !
Rating: ***1/2 ( Still entertaining)
Posted at 08:52 am by carriekirana2
Permalink
Thursday, April 07, 2005
Private Scandals - Nora Roberts
---
I don't know why, lately, I am so into the mood to read Nora Roberts' earlier works. I have read most of the recent releases but I have not gotten the chance to get her earlier novels. I bumped into Private Scandals and I decided to pick it up for the weekend read.
The extensive research Nora put into her novels really amazed me. In Private Scandals, Nora created the world of television talk shows, full with the veins of treachery, power and greed. Deanna Reynolds, was a budding broadcasting journalist, aspired to have her own show like her mentor, Angela Perkins who had built her success on a steady pace. The story took an interesting turn when Angela was found dead in the studio where she once claimed her television fame in Chicago.
Rating:***1/2
Posted at 05:38 pm by carriekirana2
Permalink
Monday, March 07, 2005
Man and Wife - Tony Parsons

Life is a series of goodbyes...
Your heart is a small miracle
---
I thought of taking a break from reading too many Malay novels. It is not that I don't like reading them. But, I miss my old habit since high school, reading English novels until dawn hit the horizon. Anyway, most of the time, I would pick up female authors' works...This time around, I thought I wanted to give a try on Tony Parson's works- Man and Wife. After reading Man and Wife, I realized that it was actually a sequel to his other internationally acclaimed novel, Man and Boy. So, by right, I should be reading Man and Boy before Man and Wife. Yet, it did not stop me from devouring this piece of book. I love Tony Parson for his genuity in writing about facts of the real life. The main character, Harry Silver was not without flaws. I love to track his trail of thoughts when he had to deal with the challenges of his second marriage, juggle time between the current wife, the ex-wife and his own boy who was the light of his life, Pat. And also his own mother who was fighting cancer and still pinning for her husband of decades who died of colon cancer.
What I like most about Man and Wife is the realities in it. A blended family with its quirks and qualms, infatuation etc. And, how Tony Parson looks at life from his perspective. It has touched my heart.
It is a keeper.
Rating: ****(Enlighting)
Posted at 07:21 am by carriekirana2
Permalink
Tuesday, March 01, 2005
Glory In Death - Nora Roberts
---
Glory In Death is the second installment of the In Death series, penned by J.D. Robb, the alter ego of Nora Roberts. What I like most about the series is probably what others like about them as well - the development of the main characters, Eve Dallas and her partner Roarke, and also the development of their difficult relationship as Eve's job has always come to a point where it conflicts with the interest of the billionare who has slowly found his way to her steel heart. I can't wait to finish the rest of the series. And, at the rate J.D. Robb is publishing her In Death series, it is a long way to go for me.
Rating: ***1/2 (Suspense with a twist)
Posted at 08:35 am by carriekirana2
Permalink
Tuesday, February 08, 2005
---
I almost forgot about this particular book. It has been bugging my mind that I might have overlooked to do a review on this piece of work by Nora Roberts. I am a die-hard fan of Nora Roberts as I admire her vitality and passion to write and produce an average of four novels in a year. That is productive. Sanctuary is not the latest novel by NR. It had been made into a television feature on Hallmark channel. But, the tv version is not as good as the original novel itself. What I can say, it has been an entertaining read though the plot is a bit slow at the begining.
Rating: ***(OK)
Posted at 10:30 am by carriekirana2
Permalink
Monday, February 07, 2005
Shopaholic and Sister - Sophie Kinsella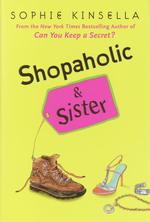 ---
I am just amazed with Sophie Kinsella's Shopaholic Series. She never runs of ideas to make each and every one of her Shopaholic series a bestseller! In the latest story of Rebecca Bloomwood, Rebecca aka Becky had gone overboard to forge a relationship with her long lost sister. What I like most about the series is that the main character is not portrayed as a "princess with no flaws". Becky did get into troubles because of her impulsiveness and created huge headaches to Luke, her newly wedded husband yet the spiceness of her somewhat stupid actions actually enlivened the story from beginning until the end. I think there is another continuation to this series. I will just have to wait and see.
Rating: ****(A Keeper)
Posted at 07:56 am by carriekirana2
Permalink
Carriekirana loves to read; anything from a mere autobiography to the bestseller book in the chart. She enjoys collecting quotes as well as ponders upon wise sayings of life. Bookrack is her attempt to keep tab of what she has been reading. Hopefully, it will also benefit those who visit as well.
---
ON HER BOOKRACK